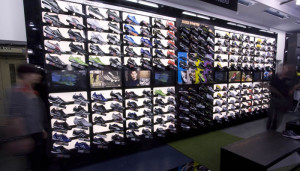 A balance of our understanding of the retail environment, construction, commercial maintenance and signage makes us your perfect partner for shopfitting or office refurbishments. Whether you're looking for a fit out contractor to work within your project or a main contractor for project management on turnkey projects we can assist. We're able to offer existing store makeovers, retailer relocations, new stores and new build fit outs. Including suspended ceilings, partitioning, carpentry/joinery, flooring, decorating, electrical and data installation, kitchens/staff rooms/toilets, office furniture fitting, retail display fitting, bespoke equipment fitting and general interior finishing. Utilising the experience of our tradesmen we can cater for most size projects and have a track record of delivering results to match your needs, time-frame and budget.
Through building and maintaining professional, friendly and flexible relationships with our clients we are able to get you trading as quickly and as smoothly as possible. By combining our comprehensive building skills with our vast knowledge of the commercial environment we can achieve the results you require. Working with you, as the client and/or your designers, planners, merchandisers, other contractors we can fit in to your project just as you need us to.
If you would like to discuss a specific project or idea – please contact us and we will visit you free of charge to discuss requirements and options and provide you with a free, comprehensive quotation. Our contact details are below.