Based in central Swindon, Wiltshire, the heart of the M4 corridor we are able to cover a large part of South England and South Wales without compromising on quality. As a rule of thumb our reactive areas are marked in red on the below map and include Swindon, Bristol, Bath, Gloucester, Cheltenham, Oxford, Newbury, Reading, Salisbury, Basingstoke, Andover, and surrounding areas. Our general geographic coverage for larger project works is marked in green on the below map but essentially we're happy to discuss any job, anywhere and can advise, ad hoc, how we can help with it.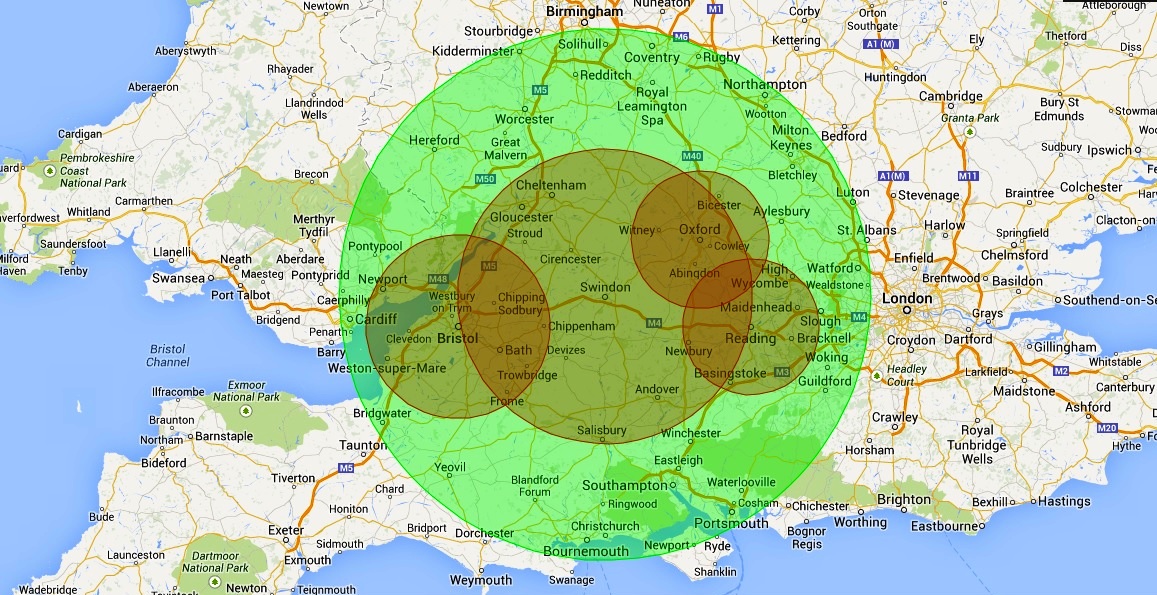 Main Coverage Areas:
Bristol | Bath | Wells | Cheltenham | Gloucester | Stroud |Swindon | Chippenham | Cirencester | Salisbury | Andover | Oxford | Bicester | Banbury | Witney | Newbury | Reading | Basingstoke | Winchester | Trowbridge | Bracknell | Slough
Extended Coverage Areas:
Newport | Cardiff | Bridgewater | Weston-super-Mare | Frome | Glastonbury | Southampton | Portsmouth | Guildford | High Wycombe | Maidenhead | Aylesbury
Sites:
We are currently servicing over 1500 commercial properties in our area for both single-site and multi-site businesses. These are mainly in the retail, office, industrial, food & leisure or education sectors.
Shopping Centres and Retail Parks:
We have good working relationships with allthe retail centres in our areas, many of which have strict rules for use of contractors. We have a complete knowledge of the individual requirements of each and are able to seamlessly arrange maintenance visits to retailers on your behalf.